Book Title - POEMS IN GLASS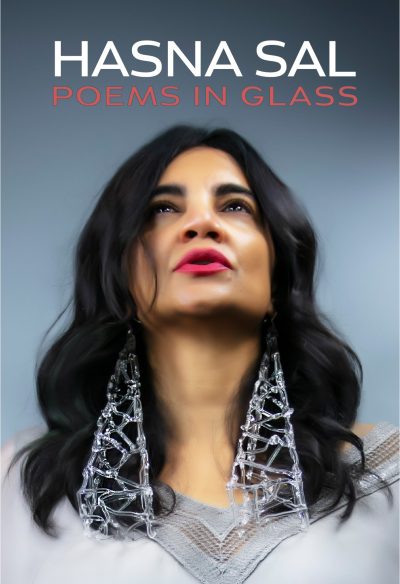 24 poems, 4 essays on topics surrounding Hasna Sal's design work as part of interior design, advocacy, inner spirit, and the environment, (sanctum, sanctuary, spirit, synchrony), and over 30 full-color images of her glass sculptures.
POEMS IN GLASS is a uniquely original book. Part memoir, part revelation. Through the panes, poems, and practice of glass artist, Hasna Sal, you'll find the heart of a poet. "From the pulse of a small city park at dusk, one artist is forever changed." Hasna's insistence that the "artist's role is to bring awareness" sounds simple until you walk the bed of shards, she crosses with the people in her community. From a local doctor and his family, to the invisible victims of trafficking, and the weary student in need of spiritual sustenance, Hasna explores both outer and inner sanctum; our personal deepest needs for spirit and light. Illustrated with her brilliantly cast unpaned glass art, Hasna's lyrical verse harkens back to the form of Sufi poets, and the warmth of bygone days where color brings visceral emotion and therapeutic energy to the mind and body. Color is the elixir of life. Let Hasna serenade your soul as she shares her life's work through narrative, art, and verse. HASNA SAL credits her graduate work in landscape architecture from Harvard with the foundation of her current work in glass sculpture. She apprenticed under artists in England and Wales and earned her five-year NAAB-accredited professional degree program in architecture at the Wentworth Institute of Technology in Boston. She calls herself a raconteur–bringing to light stories that are overlooked or forgotten or through her sculptural glass and light installations. A lifelong poet, she now debuts her first public poetry. With a diploma from the London School of Journalism, she synthesizes personal narratives, poetry, and art for communities with her unique, creative placemaking and social reform.