This year's New York Fashion week opened its borders to international designers from faraway lands such as India, Saudi Arabia, Egypt, and Australia. The international showcase was named "Markahh," and was meant to bring together the world's most influential modesty garment designers. The event provides an opportunity for established and emerging international designers to showcase their talents for fashion industry insiders.
One highlight from the week was the presentation by Indian Artist Archana Kochhar. The renowned celebrity Bollywood couture designer collaborated with International glass artist Hasna Sal to make a bold statement on the runway. Kochhar's collection titled "Warli" was part of the Make.In.India Campaign and was in support of the concept of "global disability inclusion."
Headlining the show was model Kiara (@naturallykiara). She strutted down the runway with her prosthetic leg in a triumph of inclusion. The collection featured black and white tribal-inspired prints, contrasted with modern silhouettes.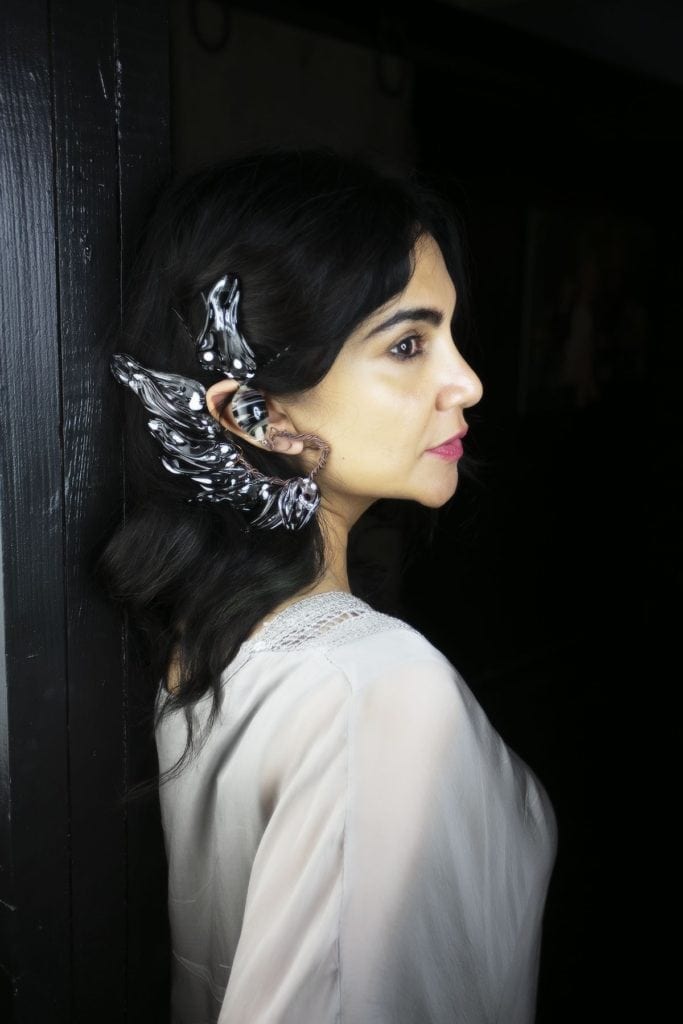 International artist Hasna Sal was tapped to provide unique jewelry for this special runway show. Hasna is known for her glass installations, housewares, and interior design elements. She was asked by Kochhar to create statement pieces in black and white to match the collection. Hasna focused on earcuffs and handcuffs to accentuate Archana's creations.
For this collection, she was Inspired by royal jewelry worn by the pharaohs of ancient Egypt, and modernistic movies like James Cameron's Avatar, the ear cuffs were designed to give a regal look to the wearer. They were crafted with Italian glass melted at 2000 deg with oxygenated and reducing flame to create intricately detailed forms that are derived from nature.
Hasna describes the inspiration behind her handmade jewelry: "In every being I see, hear, touch or feel, I find magic. The expression of that magic may be silent but it's there, for those who seek to behold. An ordinary being is an enchanting magic of extra-ordinariness, and it's my task as the artist to express that magic of creation, of celebration, of life, of symphony, of love, of togetherness, of friendship, of poetry, of kindness, of healing, of forgiveness. To that extent, this composition is about connectivity and togetherness, symbolizing peace and harmony in all things. This collection is comprised of 5 elements – glass, silver, pearls, quartz and exotic seeds; symbolizing love, friendship, kindness, togetherness, and creation. By wearing this jewelry, we are embracing these five powers of life that ennoble us and enable us to celebrate our inner strength. I feel enchantingly embraced by the strength of love, friendship, togetherness, kindness, and life itself, and I am sharing my power and strength with you."
The show was a creative success, with the ear cuffs adding a futuristic feel to the modern collection. Kochhar's collection was the perfect fusion of cultures to New York Fashion Week. The inclusive show can be a taste of what's to come for the future of fashion and New York Fashion Week.
The jewelry is now on sale via Hasna Sal's website glassconcepts360.com. You can learn more about Archana Kochhar here: http://archanakochhar.com/about