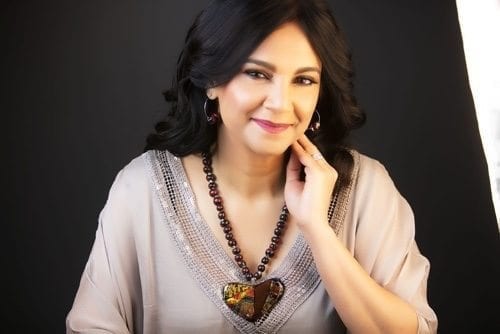 This year has proven to be the "Year of The Woman." 2018 has brought awareness to the many contributions that women make to our culture and society. From politics to music, there was a sense of women's empowerment growing in American culture and across the globe. This sentiment was also reflected in this year's New York Fashion Week events. New York Fashion Week brings the top designers to the city to display their season's work.
The Women's Empowerment Movement brought women artists and designers together to display their work for the discerning audiences of New York Fashion Week. One example was the collaboration between Indian designer Archana Kochhar and glass artist Hasna Sal.
Sal is a Harvard-trained architect turned artist and interior designer. Her work features strong colors and flowing shapes inspired by nature. Some of her pieces include glass installments, glass sinks, and bowls. She also creates one of a kind jewelry using her glass techniques.
Archana Kochhar is an Indian artist known for working with Bollywood actresses and Indian Socialites. She is also a world-renowned wedding dress designer.
Hasna first met Archana Kochhar when she walked into one of her boutiques to try to get them to carry her jewelry. Archana Kochhar herself happened to be in the store that day. Their mutual appreciation for each other's work led to a collaboration for the Maarkah event at New York Fashion Week.
The Maarkah event was a special set of shows that was meant to highlight foreign designers and give them the chance to display their work in the United States in front of critics, buyers, and the press. Designers for the Maarkah Event came from various countries including Saudi Arabia, Egypt, and India. There was also a portion of the show dedicated to modest clothing.
Archana's show proved to be a success, with Hasna's jewelry adding an artistic touch to the looks. The show was a collaboration between many women, including the models. The models were from many countries and included the model Kiara, who wears a prosthetic leg. The models were made up to look strong and powerful as they walked down the runway.
Archana Kochhar's designs included black and white traditional prints with modern silhouettes. Hasna Sal's jewelry completed it perfectly. She created glass headpieces and earcuffs in matching black and white.  Her pieces were a mix of the ancient and the modern with influences that range from ancient Greece and Egypt to modern influences like the movie Avatar. The show was so successful that Hasna Sal was asked back for her own show in February's New York Fashion Week.
The designers are hopeful that the Maarkah Event will be the influence that brings more inclusion to the New York Fashion Week in the future.
The jewelry is now on sale via Hasna Sal's website glassconcepts360.com. You can learn more about Archana Kochhar here: http://archanakochhar.com/about