Imagine, hand-crafted glass artwork that "speaks to the soul" while adding a unique beauty & elegance to any space it inhabits, whether a public forum or private home. That is what you will find when you view "the collection" of breath-taking glass walls, panels, sculptures and more by acclaimed artist Hasna Sal.
https://blink.adcfineart.com/collections/hasna-sal.

ABOUT THE ARTIST: 
Passionately pursuing the creation of glass artwork including glass sinks, glass wall hangings, glass lamps, glass tableware & table tops, and glass jewelry, Hasna Sal studied fine art in England and Wales with an exhibition of watercolor renderings at the Cornwall Museum in 1997. Relocating to Boston, Massachusetts, she completed a 5-year professional degree program in architecture & urban design with her thesis for the final year in glass. Hasna Sal then moved to Kansas, where she worked as an architect, taught design at the University of Kansas and embarked on her career as a glass sculpture artist in 2004. In 2010, she was accepted by Harvard University for a post-graduate degree in landscape architecture which, according to the artist, gave her a greater understanding of the natural world which she now translates into her sculptural forms. As the driving force behind Glass Concepts 360, Hasna Sal continues to use her talent and imagination to create a myriad of glass artwork that emotes beauty; whether in the form of a glass panel or the functionality of a glass sink.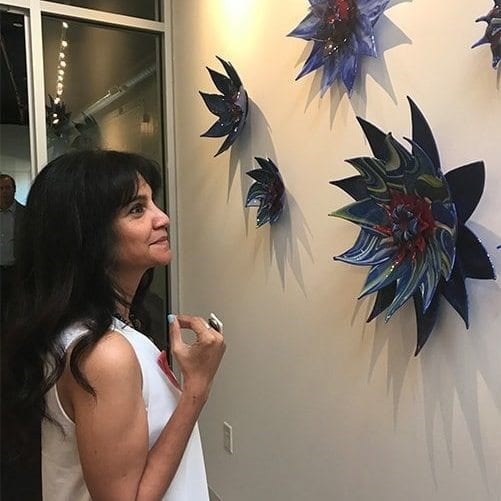 THE SHOWCASE:
Hand-picked by Blink Art, a division of Art Design Consultants, Hasna Sal's artistry in "the collection" reflects the style & function ADC strives for as an art consultant agency & gallery dedicated to showcasing the best art to their clients. Filled with vibrant designs destined to inspire, this collection offers something for every taste & lifestyle! In the words of the artist, "My sculptures are a cornucopia of planes, textures, tonalities, resonances, moods, emotions, morality, chaos and more. And finally, my sculptures are the voice of color. Color is fundamental to the human spirit, it alleviates, invigorates, humanizes us…and I let it serenade."

THE COLLECTION:
From the profusion of color in Hasna Sal's Enchanted Garden & Maple Leaf Installation to the thought-provoking Abyss & Freedom Panel; this collection features larger scale art the becomes the focal point of any room. Whether mounted on a wall or sitting on a table, Hasna Sal's collection of hand-made glass platters, featuring modernistic & contemporary flair, are not to be ignored. The "Fleur D'Amour" Glass on Wood Panel and "Coral Vase" offer a touch of realism with a bit of whimsy. The "Glass Fountain Vase" evokes the sound of cool running water. See these items and more at https://blink.adcfineart.com/collections/hasna-sal.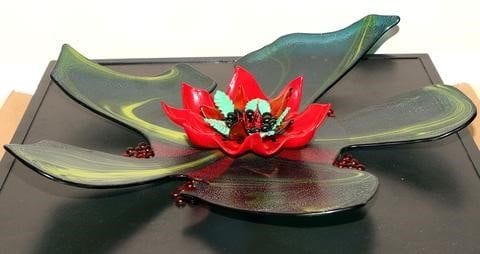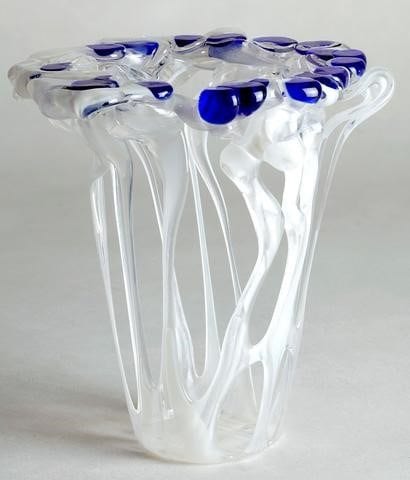 BUILDING A REPUTATION ONE PIECE AT A TIME.
One art lover posts, "Every piece Hasna Sal creates is a masterpiece in my opinion. I get compliments on our fiery chandelier all the time. I recommend Glass Concepts 360 to everyone I know." Another buyer says, "I went to one of Hasna's exhibitions and was blown away by the beauty of her art. My wife and I decided to order a custom piece for our home. I can't wait to place it in our living room and have friends over to show it off!" At Glass Concepts 360, Hasna Sal has managed to develop unique pieces that appeal to an international audience. Popular in the United States, Europe & Asia, her jewelry pieces are especially coveted in India where they are sold in two boutiques and a retail store.
Visit http://blick.artfineart.com/collections/hasna-sal to view Hasna Sal's recent creations. Learn more about Hasna Sal at www.glassconcepts360.com and contact her directly at  hasna_sal@glassconcepts360.com